Westchester County Exterior House Painting Company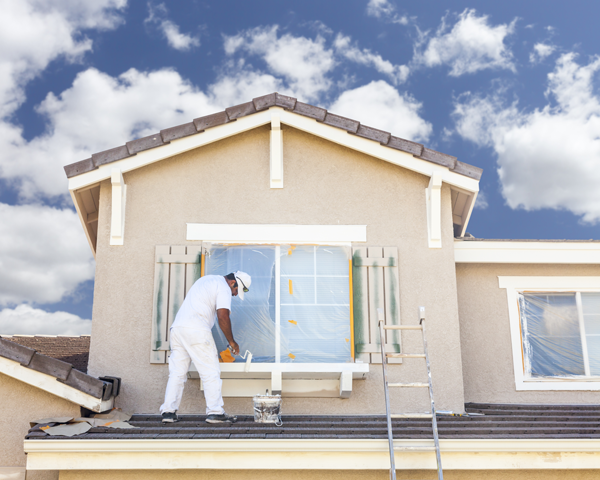 WESTCHESTER COUNTY EXTERIOR HOUSE PAINTING
If you live in Westchester County, NY you know how brutal our NorthEast winters can be and how hot and humid our summer are. These elements can be brutal on the exterior of your Westchester Home. It seems that every few years you look at your house and say.. "I need another Paint Job". This can be very frustrating, considering you spent thousands of dollars with your last House Painter.
Are you one of the thousands of Westchester homeowners who are sick and tired of looking for "Another House Painter", and you are finally looking for a Professional Painter in Westchester who can paint your home once and do it right? If you are looking for a professional, experienced, honest Westchester County painting contractor for your Home's exterior painting project in Westchester County, then you have come to the right place! Designs Unlimited has over 20 years of Exterior House Painting experience in the Westchester Market. Designs Unlimited is be happy to be there to assist you with any Westchester County exterior painting project, no matter how big or small.
Call us at 914-276-0439 to schedule a Free Painting Estimate for your Westchester Home.
Exterior house painting in Westchester County, NY,  is a particularly lengthy and difficult task for some painters, but the experienced house painters of Designs Unlimited are able to get the job done quickly and with the beautiful results that you desire. This is because our Westchester County painting company is made up of experienced, dedicated, honest, and licensed painting contractors. So don't worry, you can rest easy knowing your job is in great hands with the Painting Pros of Designs Unlimited.
Our Exterior Painting Process Includes:
Surface Preparation – We can't stress enough how important it is for your home's exterior to be properly prepared for the application of paint. This often includes the  need for power washing prior to an exterior paint job in order to remove mildew, grime and dirt from the home's exterior surfaces. Also included is the scraping away of any loose paint, sanding, scuffing and caulking all gaps.
The Painting! – We'll prime and use premium quality exterior paints from top rated brands to ensure a lovely, uniform finish that lasts.
Clean Up – We clean up after ourselves daily, as well as at the completion of the project. All materials are removed and stored neatly in order to keep your Westchester home as orderly as possible during the project. At the end, you won't even know we were there we clean up so well!
Final Inspection – Talk a walk with us to see how we did! We'll inspect your home's painted exterior surfaces thorough and provide any touch ups necessary to ensure you get that first-class finish we at Designs Unlimited are known for.
To Schedule a Free Estimate for your Westchester Exterior Home Painting Project Please Contact Designs Unlimited at 914-276-0439