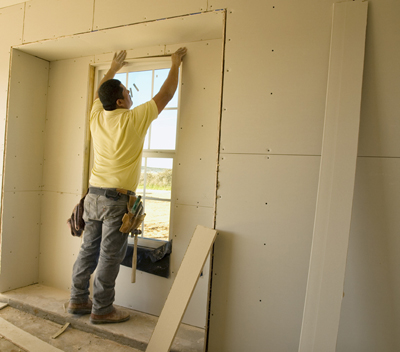 A Westchester County home's interior walls are typically made of lath and plaster or panels of sheetrock (also knowns as gypsum board, drywall, or wallboard). Both materials are susceptible to staining, water infiltration, and impact damage. Water damage can cause plaster and sheetrock to swell, crumble, discolor, and decay. Bumps from furniture can cause marks and dents, and smoke and cooking residue can discolor the wall's surface.
Designs Unlimited is experienced in improving and restoring the interior surfaces of your Westchester home with professional plaster repair or replacement. New home construction and historical preservation projects thru out Westchester and Fairfield County are performed by trained Designs Unlimited craftspeople experienced in plaster restoration, wallboard installation, taping, and painting.
More than 20 years ago, Designs Unlimited started its business as a painting and plaster restoration company. Today, Designs Unlimited offers its customers services in:
Carpentry
Decorative Finishes
Painting and Refinishing
Shutter Design & Installation
Designs Unlimited offers complete decorating and restoration services for plaster and sheetrock walls.
If you need a professional Sheetrock company and you live or work in Westchester County or Fairfield County, please call us at 914-276-0439 or 203-869-9595 to speak with a licensed and professional sheetrock and plaster company.